Big Time in the Big Apple: Lammies, Bi Media Summit, Bi Lines reading
Lambda Literary Awards
Roc and I had a grand time at the Lambda Literary Awards on Thursday in NYC. We rode in on Amtrak and stayed for a long weekend at the Lammies host hotel, the W Tuscany.
Just minutes before the ceremony, I was informed that a grant I'd applied for researching male triads went to someone else. So that was a disappointment going in.
At the cocktail hour before the event, while hanging out with Felice Picano and his very funny sister and looking around for familiar faces, one of the judges in the Anthology category whom I happened to meet totally brightened my evening, telling me that she loved and had nominated Bi Perspectives on Kinsey as a finalist (presumably she was the only one of the four judges in that category who did so) and that she was keeping it for her personal library, rather than selling or donating as she planned to do for most of the other books.
We were supposedly assigned seats somewhere in the Proshansky Auditorium at CUNY, but wandered around looking for the chair signs until almost the start of the ceremony until Charles Flowers of LLF quickly pointed to two empty seats and we sat down.
The Bisexuality category was pretty much first out the block. And the Lammy went to . . . not my book. It went to Open: Love, Sex, and Life in an Open Marriage, written by Jenny Block (a gorgeous person whom I finally met at the Bi Lines reading). Oh well, third time wasn't the charm in my case this time around, but let me just add my response to another finalist who asked me as we chatted after the ceremony, What do we do now after not winning the Lammy? "Go home and write a better book than the last one."
Avenue Q
This was perhaps the most joyous and fun show I've ever seen, and the weekend's highlight for me. I just laughed and chortled myself silly. Roc got us great seats up close and the show was totally magical and irreverent and delightful from start to finish.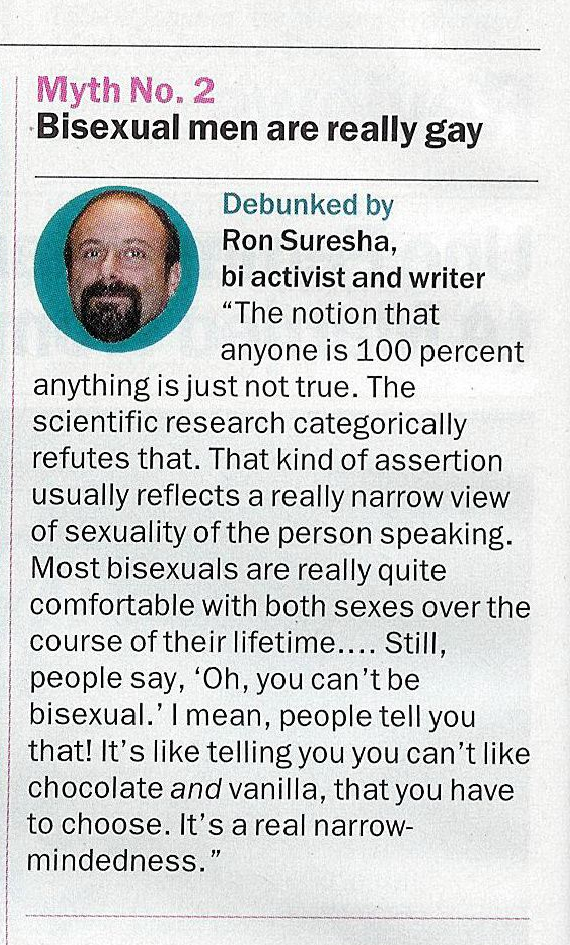 National Bi Media Summit
In advance of the National Bi Media Summit held at the LGBT Center on Saturday, for which I served as a panelist, TimeOutNY asked several folks to debunk some bi myths. My response seems at this point somewhat off-topic as per the headline/myth they ended up using. Oh well.
Still, my parts on the panels on Bi Myths and Bi Community went quite well, and I got very positive feedback on my comments.
Bi Lines

My "intriguing" reading on Bisexual Perspectives on Kinsey at the Bi Lines performance on Saturday evening was kindly mentioned by the handsome & charming Father Tony of Bilerico blog, who hails from Colchester, CT.
He was quite upset about how the MC and organizer for the evening seemed to rush Edmund White, truly an honored guest. I need to be polite here, but let's just say that I don't disagree.
Here's his blog:
http://www.facebook.com/ext/share.php?sid=92868766828&h=jiT9K&u=dw1W2&ref=mf
Ron Suresha reading at Bi Lines, NYC