Everyone is invited to
a Mullah Nasruddin book signing
and author reception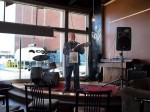 with local author Ron Suresha, for his latest publication,
The Uncommon Sense of the Immortal Mullah Nasruddin
Sunday, January 30 · 3:00pm – 6:00pm
The Telegraph, 19 Golden Street, New London, CT, 06320
Thanks to Rick Koster for his nice write-up of the event in Night & Day:
On Sunday, the Telegraph in New London hosts an author reception and listening party for Ron Suresha in celebration of his latest book, "The Uncommon Sense of the Immortal Mullah Nasruddin."

Suresha says the project was inspired by his mother, who used to tell him stories and jokes about Nasruddin, a Persian folk hero. He researched the project at New London's Connecticut Storytelling Center and wrote much of the manuscript at such local haunts as the Bean & Leaf, the Dutch Tavern, and Muddy Waters.

Suresha will discuss the genesis of the work, read selections, and sign copies of the book.
For more information about the author and excerpts from the book, please go to
http://www.MullahNasruddin.com
Facebook event page:
http://www.facebook.com/event.php?eid=184306778256277