Our NYC Pride Day Crosstown Sprint to Meet Dan Savage
I'd like to say that my Pride Day mission was to peg Dan Savage. Hard.
Though I find him attractive for an unbearded fellow I did not actually intend to "peg" Dan Savage. But the idea of trying to pin him down and nail my books to his head until he read them is not too far off from my state of mind.
The lack of understanding about bisexuality in general and specifically the bi male experience that the author of the "Savage Love" column in Seattle's The Stranger was perpetuating was just the sort of thing that I felt, if I could just tell Dan my own bi coming-out story and give him copies of my books, would remedy.
I thought that BI GUYS, which so movingly describes the bi male erotic experience, would most appeal to Dan. Rocco disagreed, saying he thought he'd be more interested in BI MEN: COMING OUT, which is an academic book and more cerebral. But the way to a sex columnist's heart, I reasoned, is not through his brain. Or his stomach. It's through his hardon. However, as I considered sending him copies, I doubted he'd pay much attention to my books, even though the fire had already jumped from the couch to the curtains. The bi attack pack was already snarling and ready to bite his biphobic ass but hard.
Roc and I decided only the day before to hit NY Pride, and as I learned that Dan was Grand Marshall of the parade, a scheme formed to try to meet Dan in person there. I sent a note to some of the bi activists asking them to have patience while I tried to connect with him, and to restrain from any sort of aggressive behavior.
I thought that three or four of us could go meet him as a delegation at some point in the route to offer a copy of the Lethe edition of BI GUYS, a CD copy of the nonfiction anthology BI MEN: COMING OUT, and a Journal of Bisexuality broadside of my own gay-to-bi coming out story, "Coming to Terms." All tidily packaged in a plastic zip bag with my card.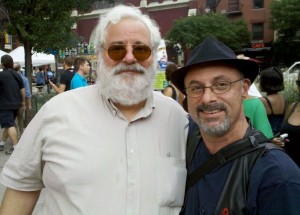 So Roc and I drove down to pick up the train at Stamford, and all went fine until we arrived early at the gathering place for the bisexual parade marchers. I'd arranged for us to meet bi activist and therapist Estraven Andrews, who brought a copy of the classic book BI ANY OTHER NAME to give Dan.
We arrived an hour before the official parade start to meet Estraven and another bi activist who wanted to give Dan a message but who showed up late. Estraven and I decided we needed to hustle to intersect Dan and left the group with Rocco.
After 15 minutes of scooting up and down several streets, we arrived closest to where we believed Dan was doing media stuff, but could go no further than the barricade without a Media Pass. (Right then I realized I might have gotten one beforehand if I had planned this ahead. I may have literally slapped my head.)
We consulted, and Estraven returned to join the bi contingent. After the parade, she told me that what we had both feared would become a nasty, jeering, Danphobic mob turned out to be a more subdued civil protest because I had asked them to suspend their hostilities, and I was grateful for their cooperation and willingness to agree to a truce.
Here's where Rocco took control of the situation, catching a taxi for us to the end of the parade route, which was the only other place we'd have a chance to intersect with Dan before he left the event, and positioning us strategically where the VIPs debarked from their limos.
Finally, we heard the announcement for the arrival of the Grand Marshall of the parade, Dan Savage. As soon as we recognized him stepping out of the car, we started waving our arms and calling out to him. Rocco caught Dan's attention first, and, yelling at the top of his big bear lungs, "This man has come all the way from the mountains of Connecticut to meet you!" (Yes, we are well aware that we live in the hills, not the mountains.), waved him over energetically toward me standing in my snappy little black outfit — kilt, leather vest, and fedora.
So as Dan came closer, I reached out my hand to introduce myself, "Hi! I'm Ron Suresha, the author and editor of BI GUYS and BI MEN and I want to talk with you about your problem with the bi activist community . . ." Dan recognized my name, and started nodding as I spoke. And so the conversation began.
Afterward, Roc and I realized we'd forgotten to get a picture of Dan and me together, which I would have loved to post here, but then, there was a barricade and a number of people between us, and it was something of a miracle that we got to shake hands and talk for more than a minute.
Instead please be content with this account of our big adventure, these pictures, and the promise of more news soon.