Bear Bards noted as Saints & Sinners feature in Gambit Weekly
The Bear Bards Read event held at JohnPaul's during this year's Saints & Sinners queer lit fest in New Orleans drew a crowd of more than 40 people.
 ~
Here's David Bergman in one of a series of photos taken of the readers. The entire series is on my Facebook album for the event.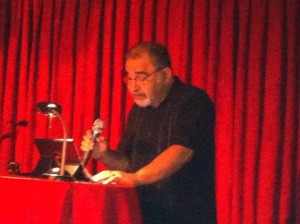 ~
The reading drew some attention from the New Orleans free paper, Gambit Weekly, which mentioned it in their Preview of the festival.