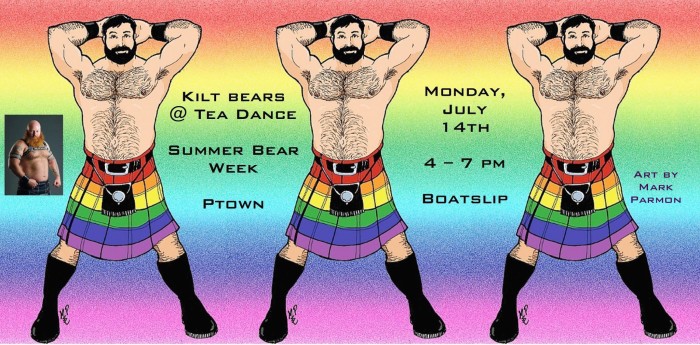 Kiltbear Art by Mark Parmon
~
Monday, July 14th,  4:00pm – 7:00pm
For Summer Bear Week 2014 we're trying a new optional dress theme for afternoon tea dance. It's KILT time!
Kilts are already a common sight during Bear Week but this year we want to get all the available kiltbears together.  So wear your kilt to Monday's Boatslip Tea Dance. Be colorful, comfortable, and have fun. Whether you wear your clan colors, leather kilt, or just a simple Utilikilts, whether commando or not, please join us in beginning a festive new Bear Week tradition.
Please share this invitation with your kilted buddies!
Artwork by Mark Parmon
http://www.boatslipresort.com/
http://www.ptownbears.org/
Facebook event page: https://www.facebook.com/events/499843936781852/
~
Answers for "What are you wearing under your kilt?"
If you are looking for some ready answers to this age-old question, here are a few answers picked up mainly from the bagpipe newsgroup, rec.music.makers.bagpipe:. H/t to Bob G. for the original list, adapted here for Bear Week Berserkers to use in responding to men.
Summer Bear Week responses to the query, "What are you wearing under your kilt?"
My Scottish pride.
My shoes and socks.
Nothing is worn, everything is in perfect working order.
How warm are your hands?
Play your cards right and you can find out.
My father once told me a real gentleman wouldn't ask. He was right, God bless 'im.
Tell me, sir, would you go jogging without a jock?
Same as you, only bigger.
Your husbear's lip balm.
If I'm lucky, your lip balm.
Socks, shoes and a wee bit of talcum powder.
Bagpipes, wanna give 'em a blow?
A wee set of pipes.
String — I had to tie it up so it didn't hang below the kilt.
It's the smallest airport in the world: two hangars and a night fighter.
How badly do you want to know?
Only what the good Lord graced me with.
Gi'e us your hand, sir, I'm a mon o' few wurds.