White House Bisexual Policy Briefing 2016
On Monday, September 26, more than 100 advocates from the bisexual community came together in Washington, D.C., for a very special event at the White House. The Bisexual Community Briefing, the third event specifically bringing together bisexual people, was hosted by the White House Office of Public Engagement to mark the conclusion of Bisexual Awareness Week (#BiWeek).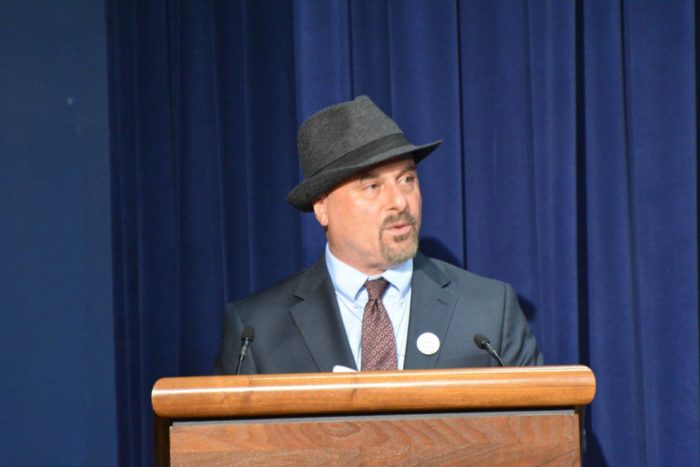 I read an excerpt from my essay in the anthology, Recognize: The Voice of Bisexual Men, an Anthology, Edited by Robyn Ochs and H. Sharif Williams. Just before coming on, Faith Cheltenham, our fearless leader, informed me that I had to cut my reading in half. Here is where I intended to start the reading:
Following a 2003 interview with Boston-based bear and bi activist Pete Chvany, it became clear to me that not only was there a lack of information about bisexual bears, there was virtually nothing published about bisexual men in general. Research quickly revealed that most of the published writing about bisexuality—academic as well as popular—was written by, for and about women.

With support from pioneering bi activist Dr. Fritz Klein, Pete and I collected three dozen highly personal essays in a 2008 book, Bi Men: Coming Out. That collection and a companion anthology of fiction I edited, Bi Guys, were named Lambda Literary Award finalists.

In my own essay for Bi Men, I detailed the personal evolution of coming to terms with my bisexuality. For years I had had many short-lived sexual encounters and romantic relationships with bi men, and I had basically stereotyped them as married men who cheat on their wives with other men. Yet I knew my own story was quite different and as I started to read about the lives of other bi men in their own words it became clear that this was an irrational prejudice that I had held for too long, and one that most people I'd encountered — gay and straight — seemed to hold as well.

In my forties, along with several other midlife crises (it might be fairer to call them midlife developments), I finally came out as bisexual. This life passage eventually proved much more provocative and positive than my first arduous teenage process of self-discovery as gay, but just as much a rollercoaster.

Within a two-year period I experienced the death of my father, sold my house and moved three times, lived in four different cities, published my first two books, underwent cancer surgery and radiation treatment (entirely effective, knock on wood) and met and fell in love with my husband. It is hard for me now, even 12 years later, to separate coming out as a bisexual man from the numerous challenges facing me at that time.

I experienced shifts in perception of how my body functions and relates intimately to others. My experience with cancer changed the way I looked at my mortal body. I felt I no longer had the luxury of time to deny any aspect of my sexuality, including my occasional but very strong feelings toward women. I realized that many of my favorite erotic fantasies involved active sex with both men and women, and I stopped feeling guilty about having them. As I moved past cancer into healing, I affirmed my bisexual potential. …
Here is where I actually started reading:
Coming out —whether as gay, lesbian, bi, trans, or anything else — is a complex process of self-discovery and life actualization. To declare any manner of non-heterosexuality queers one's world in a truthful, positive way. Some men who — like me — move from gay to bisexual identity are coming out a second (or third) time and expanding the way in which we queer the world …

I have found purpose in advancing the rights of bisexual people, especially giving voice to bi men, who are arguably the least understood and most stigmatized gender and sexual minority. BGLTIQA is not just alphabet soup; it is a chain that represents millions of lives, linked in myriad ways and only as strong as the weakest link. As queer pundits have begun to acknowledge, married bisexual men are the ones who most urgently need to hear the call to come out. Bisexual men experience greater misunderstanding and stigma than the general population—more than gay men and even more than bisexual women—and it is my experience that gay men convey much of that prejudice.

Although it may be that closeted bi married men in primary relationship with women are the most important bi-identified sub-population to be identified and convinced to come out, gay men coming out as bi are also a significantly underrepresented population. We must develop unique outreach approaches and make special efforts to educate and recruit leadership from each of these communities of bisexual men.

I would not have predicted that coming out multiple times as gay, asexual, wolf/bear and bi would be part of my life's journey, but perhaps my journey is no more unusual than that of many others. At this point I am unwilling to accept the notion that my sexuality is fixed in any way whatsoever.

Men such as myself coming out (once again) as bisexual are expanding the way in which we transform our world, each creating our own unique sexuality. Why? Because we can. And why not? Why shouldn't there be as many sexualities, as many ways to love, as there are humans, or stars in the sky?
Photos by Jamie McGonnigal. Learn more about the event here:http://bit.ly/2dCHkpr