Bear Soup, with Ron Suresha
News, interviews, skews, and shmooze for the online ursine community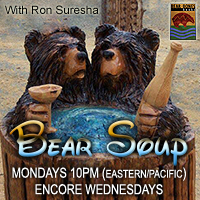 Bear Soup, with Ron Suresha launched January 17, 2005, and ran for two years, 49.5 episodes of original shows streaming on the Bear Radio network.
Among the "live" interviewees on Bear Soup:
The show ran until January 11, 2007, at which point the host took a 2.5-year hiatus from podcasting to complete work on several books.
The show re-premiered Monday, August 17, 2009, featuring an interview with musician Jeff Heiskell.
You can subscribe to the podcast on iTunes.
"Bear Soup, with Ron Suresha"
http://www.ronsuresha.com
http://bearradio.net/podfeed/feed.php
http://phobos.apple.com/WebObjects/MZStore.woa/wa/viewPodcast?id=167945054
Bear Soup is sponsored in part by Bear Bones Books.