Hibernation and other poems wins two Rainbow Book Awards
Hibernation, and other poems by bear bards has earned the top Rainbow Book Award this year in both the LGBT Poetry and Bisexuality categories.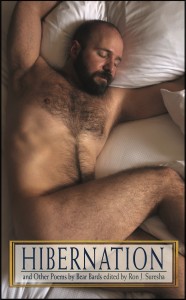 Congratulations to esteemed bear bards and contributors David Bergman, Albert Skip Brushaber, Alfred Corn, Michael G. Cornelius, Wayne Courtois-Seligman, Bob Cunningham, Jameson Currier, Lewis DeSimone, Gavin Geoffrey Dillard, Charles Flowers, Jack Fritscher, John Genest, Scott Rex Hightower, Charlie Hopwood, Daniel M. Jaffe, David Juhren, Owen Keehnen, Daniel Lewiston / David Gerard, Raymond Luczak, Ed Madden, Stephen Mead, Ron Mohring, Miguel M Morales, Jay Neal / Jeff Shaumeyer, Felice Picano, C.D. Reade, Dennis Rhodes, Rocco Russo, Gregg Shapiro, Jordan Shu, Jay Starre, Jim Stewart, Dan Stone, Shawn Syms, Chris Vaccaro, Jeff Walt, Scott Wiggerman, Randy Wyatt, and Emanuel Xavier!
Thanks also to Steve Berman and Toby Johnson of Lethe Press, and to YogaBear Studio for the stunning cover photo.
~
Check out Ron's interview, discussing Hibernation, on the Cubs Out Loud podcast, from November 9th, 2014: http://cubsoutloud.com/?p=2206
~