Best of Bears 2011
Yikes. Seems like it was just Halloween, and now the scariest part of the year is right here. It's that time again.
Yes, it's The Complete Bear's annual poll, comprising a veritable Who's Who of the fiercest Bearocity across the globe.
This year they're having folks vote via Facebook questions, so you have to have a FB account in order to vote, which means that it should be less prone to problems.
And check this out, friends and fans! There are two special categories I'm nominated in and would personally appreciate your support for, simply by following the FB links and just clicking to vote for a couple fur-tastic goodies:
Best Bear Blog /  Podcast:

please vote for Bear Soup podcast, with Ron Suresha
you can also Like Bear Soup on FB here.
***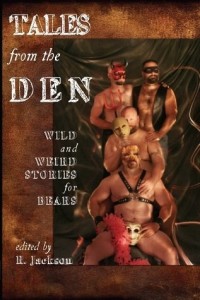 Best Bear Publication
please vote for Tales from the Den: Wild & Weird Stories for Bears
edited by R. Jackson (my pseudonym)
published by Bear Bones Books / Lethe Press
you can also Like Tales from the Den on FB here.
***
Thank you, friends, and from our family to yours,
Furry Holidays!