Readings of Hibernation and Other Poems in Detroit and Ann Arbor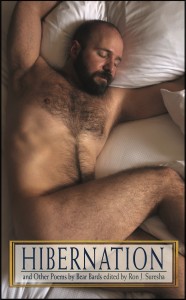 Author Ron J. Suresha will return to his Motown roots this month when he comes to Detroit and Ann Arbor to read from his latest book, Hibernation and Other Poems by Bear Bards.
On Friday, July 25, 2014, at 7:00 pm, Suresha will read at Common Language Bookstore, 317 Braun Court, in Ann Arbor.
On Sunday, July 27, 2014, at 6:30pm, Suresha will read at Hayloft Saloon, 8070 Greenfield Road, in Detroit.
Suresha, who attended Oak Park High School and was graduated in 1976, edited his high school literary magazine and newspaper, and was named the Detroit News/Scholastic Student Writer of the year. He attended the University of Michigan in Ann Arbor, where he lived from 1976 to 1981, at Alice Lloyd Hall Pilot Program and the LSA Residential College Creative Writing program, and received an Avery Hopwood Undergraduate Award for his poetry. Suresha attended college until shortly after the unexpected death in 1977 of his mother in Oak Park, Michigan, where he grew up.
Despite this, during his Ann Arbor years, Suresha continued to be very active in the poetry and literary community. For more than a year, Suresha organized the popular Guild House Poetry Reading Series, which featured dozens of local writers from on and off campus. He also organized a complete, continuous reading of Walt Whitman's poetry book, Leaves of Grass, on May 31, 1979, the 160th anniversary of the bard's birthday, featuring 30 poets from around Ann Arbor and Detroit. A photo of Suresha reading at the event on the Diag was included in the LSA college bulletin the following year. In 1978-9 Suresha co-founded and co-edited a free alternative monthly newspaper, The Ann Arbor Alchemist, and also briefly edited a free "New Age" monthly magazine, Ann Arbor Pathways. During his Ann Arbor years, he was also very active in several housing and food cooperatives.
In 1981, Suresha moved from Michigan to Atlanta for work, though he has retained his connection to both his hometown and alma mater. In the interim, Suresha lived in various cities around the USA, and continued to write and work in all aspects of publishing. He has edited or written more than a dozen books of nonfiction and fiction, mostly of interest to gay and bisexual men. Suresha is a three-time finalist for the Lambda Literary Award for his anthologies on bisexuality. A 2010 collection of traditional Turkish folk tales, The Uncommon Sense of the Immortal Mullah Nasruddin, won two national awards, The Anne Izard Storytellers' Choice Award and a Storytelling World Honor Award.
Suresha's ties with Michigan were renewed in 1998 when he returned as caregiver for his father, who passed from metastatic prostate cancer in 2001. In 2004, Suresha married Rocco Russo, a family doctor living in Connecticut, and the two presently reside in New Milford.
In 2007, Suresha co-founded Bear Bones Books, an imprint of indie GLBTQ publisher Lethe Press based in Maple Shade, N.J. The imprint publishes Suresha's work as well as other authors in the gay/bi men's "Bear" community. Suresha, who has read twice before in years past at Common Language, will read from and sign copies of his most recent publication, Hibernation and Other Poems by Bear Bards, the 20th title from Bear Bones Books. Hibernation is an anthology of bear-themed poetry featuring 100 poems by 40 contributors including award-winning authors Felice Picano, Jeff Mann, Alfred Corn, and Jack Fritscher.
Keith Orr, co-owner of the bookstore, stated, "We're delighted to bring back prodigal poet and our friend, Ron Suresha, to Ann Arbor for his reading at Common Language. Ron is a Bear community pioneer, a well-respected name in GLBTQ literature, and an enthusiastic, fun reader. We invite everyone to join us for this free event to welcome him back to Ann Arbor."